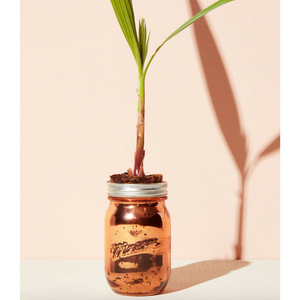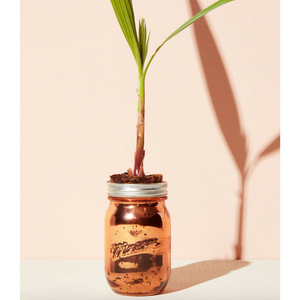 Garden Jar - Palm Pint
Modern Sprout's self-watering indoor Palm Tree Garden Jar that features a pint-sized metallic coral finished canning jar outfitted with a passive hydroponic system known as "wicking," to bring water and nutrients up to the plant roots. So whether you forget to water, overwater, or both, we've got you covered. This year-round indoor planter comes equipped with everything you'll need to start growing, just add water and set in a sunny window.
Celebrate summer all year round by sprouting a baby Palm Tree in your home. As your tree grows, you can transplant it into a bigger pot or even directly into the ground (depending on your location).


INCLUDES
Certified Non-GMO Palm Seeds
Pint Coral Mason Jar
Coconut Husk Net Pot
Recycled Glass Growing Medium
Coco Pith Disk
Polypro Wick
Plant Food
Activated Carbon
Instruction Manual
DETAILS
Size: 3 1/8" x 3 1/8" x 5 1/2"
Weight: 13oz
Designed to be reused
Assembled in the USA